Having previously worked in Edinburgh for 10 years, and for two separate companies as head of SEO and digital marketing, I thought I would share of the most popular SEO agencies in Edinburgh.
I've included a brief overview of each below, along with the services they specialise in (if any).
My criteria for a good SEO company wasn't too strict, I tried to be as fair as I possibly could. I looked for companies that:
Had clear pricing
Demonstrated success metrics (including sales, conversions, decrease in cost per leads) and focused less on rankings
Really had a grasp on what SEO is and how to do it successfully
Didn't talk about out-of-date tactics that don't work
Seemed to care about their clients
TIP: If you want to learn SEO from the experts we have a great free guide on Learning SEO from the experts that I think you would enjoy.
1. Attacat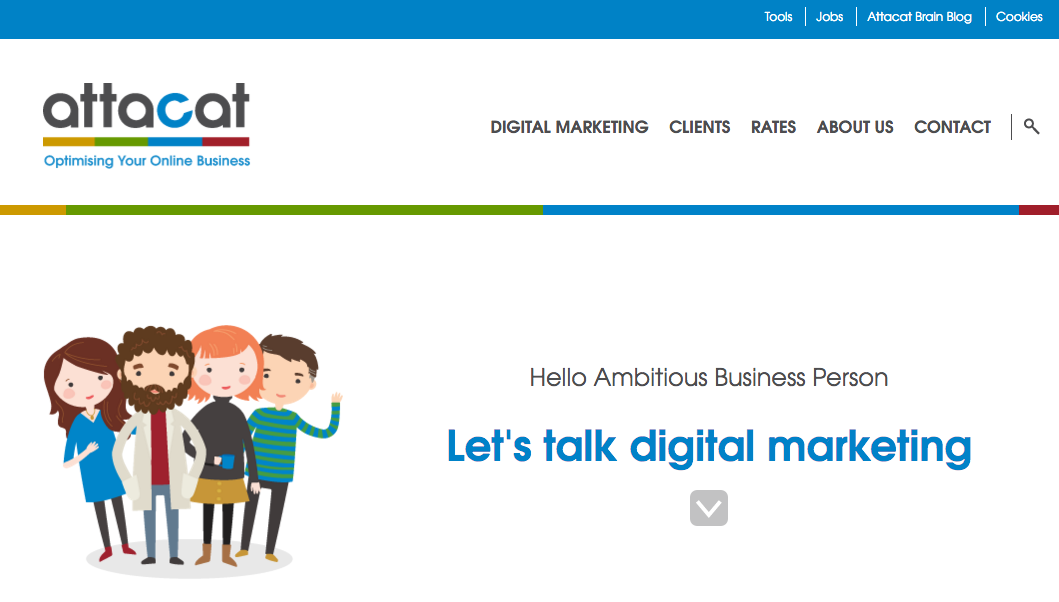 Attacat's website was good as they talk about client success stories including their increase in conversions, and decrease in cost per leads. They also have clear pricing which is great.
They do not have a minimum contract which I'm sure you'll find attractive, and they also have a 95% year-on-year client retention rate which is very impressive. After reading their 'about us' page I got a sense that they really cared about their clients which again is great.
They also have a good presence in search as they appeared several times when I was researching this article. A good sign they know what they are doing.
Website: http://www.attacat.co.uk/
Telephone: 0131 220 1441
Contact: contact us page
2. DigitasLBi

DigitasLBI – as it is now called – is a really well-known SEO company, not just in Edinburgh but all over the world, and they really have some impressive clients. As I have worked in Edinburgh for so long I could not escape knowing about these guys, and I'm pleased to say they come highly recommended.
They have won many awards and really cover a wide range of services that I'm sure your business will benefit from. They have also been voted the best place to work on many occasions. I personally know one person who works there and I can say he really knows his stuff.
Website: http://www.bigmouthmedia.com/

Telephone: 0845 130 0022
Contact: contact us page
3. Teckle Digital
With a professional, clearly laid-out website and an affordable approach to SEO for companies of all sizes, Teckle Digital is definitely one to watch – especially if you're looking for more than just SEO!
Teckle also offers neatly designed websites, social media services and ad retargeting – all services tailored and designed to fit around your own company's goals. Although, you should remember that getting to Page One isn't all there is to SEO – your website also needs to convert visitors into leads.
You can also take a look at the client testimonials on their home page.
Website: http://www.teckledigital.com/
Telephone: 0131 669 9488
Contact: Contact page
4. Alba SEO Services

Offering a variety of digital marketing services, Alba SEO Services are marketing and SEO specialists based in Edinburgh. They feature high in Google search – so they must know what they're talking about – although as with any company, you'll want to know that high rankings aren't all Alba cares about.
Website: http://www.albaseoservices.co.uk/
Telephone: 07867951266
Contact: There a handy form on the 'contact us' page
5. Cozy Digital

What can I say about these guys, well, I was their head of SEO for 5 years but please don't think I'm being bias. The reason this company is in the list is because they did show up for "seo companies in Edinburgh".
Another big reason they made the list is that I can personally vouch for this company. I know these guys care about their customers and always give them the best possible service. They have a great way to compare their SEO packages on their website.
Cozy Digital are really good at helping small businesses grow online. This is not an easy thing to do in SEO and is a great skill to have.
website: http://www.cozy-digital.co.uk/
telephone: 0131 560 1790
contact: contact us page
6. Pretty Klicks

"Not the biggest agency, but smarter and leaner." — It's quite a good tag line for a company to have, which is why Pretty Klicks features at no. 6 on my list. Aiming to offer quality, honest and reliable SEO, they also ensure their services are results driven, which is exactly what you want to hear.
Website: http://www.prettyklicks.com/seo-edinburgh/
Contact: Contact us page
7. SEO Service Edinburgh

With years of experience behind their belts, SEO Service Edinburgh offers proven, affordable SEO strategies, complete SEO in the UK, and even Google penalty recovery – if you've previously been penalised by Google for tactics such as link building in the past.
So, if you're looking to build on your company's SEO, this could be a budget-friendly option – but there's only one way to find out (give them a call)!
Website: http://www.seoserviceedinburgh.co.uk/
Telephone: 0141 250 7139
Contact: Contact us page
Disclaimer
Stargazer Digital are in no way affiliated with any of the above companies and we cannot vouch for the kind of service you will receive, but we really hope if you are looking for an SEO company in Edinburgh that you find this information helpful.
Conclusion
I hope you've found this blog helpful, and I do recommend you contact these Edinburgh SEO companies to see which ones are the best fit for your needs. When you do, remember to ask them questions like these ones.
And if you have any questions you'd like to ask ME, feel free to leave a comment below! I'd love to hear from you.