Are you not sure how to choose a good SEO company?
SEO has changed significantly over the past 10 years, and the SEO companies who are not adapting to these changes are the ones that will soon be out of business. You must demand more from them!
You may have heard the term 'Inbound Marketing'. This relatively new marketing methodology is an evolution of SEO, PPC, PR, social, conversion optimisation and content marketing.
If you are thinking of hiring an Edinburgh SEO company, or your existing company is not embracing new marketing ideas, then maybe it's time you moved on. A good way to identify if your current SEO company is stuck in the Ice Age is to listen to their language.
For instance, if they talk about:
Getting to the top of Google
Selecting a set number of keywords and keyphrases
Ethical link building
AND if your weekly/monthly reports focus on keyphrase positioning and monthly traffic – then your SEO Company is doing your business a disservice.
Let me explain.
The success of your business online is not about keyphrase rankings. Rankings are dead, and they tell you very little of how successful your campaign is, anyway.
A great indication of success is how many sales you received this month, or how many leads your SEO company generated for you in your last report. Perhaps even how many times your phone rang.
These are all important measurements or KPIs to illustrate how well you are doing. If your SEO Company is not focusing on these important factors then it is time for a change.
Building the right kind of relationships
As we are all in business, we know the importance of building relationships. We buy from people, not companies, and that should be true also of your Edinburgh SEO company.
We all need to build trust with our clients and always go that extra mile to make sure they are happy. They need to ask you the right questions, and listen to what you want to achieve online and for your business.
Asking you for a list of keyphrases will not help them ascertain what success means to you. They need to build relationships and form friendships with you and your business. For example, can you name three people who work on your campaign?
You've got to remember that not every company will be the right match for you, and the best relationships are forged when you hire a company that shares the same values.
Each SEO company has their own methodologies, you need to be bought into what they are trying to achieve or your relationship will soon deteriorate.
What kind of relationship do YOU have?
How is your relationship with your SEO company – how often do you have contact with them? You should be in frequent contact with your chosen SEO vendor, and you should feel that you can pick up the phone or respond to an email at all times.
Do you know exactly what the company does for you? Your SEO company should have identified a clear road map of success and provide you with access to a client portal where you can see exactly what goes on and when.
This portal should also give you the opportunity to get involved in the conversation with team members that are working on your campaign. At Stargazer we use Basecamp, which is a platform where the client can log in and see total transparency of what's going on in their Inbound marketing campaign.
This platform allows you to see to do lists, project deadlines, content calendars and other tasks that may be assigned to different members of the team and the client. It also gives our clients the opportunity to communicate directly with the people who are actively working on their campaigns.
Your SEO company should have a similar process in place.
Does your SEO report look like this?
Or does it look more like this?

Which one tells you more about how your business is doing? Talking with your SEO company and identify which metrics are important to you – and which drive success – is an important conversation you need to be having.
Conducting a marketing assessment
As I mentioned in the introduction, SEO has changed, and is now a much smaller part of a bigger marketing solution. We have seen the emergence of inbound marketing to be more effective in marketing your business.
One of the first things your SEO company should do is conduct a marketing assessment to see where your strengths and weakness lie. Below you can see a sample marketing assessment: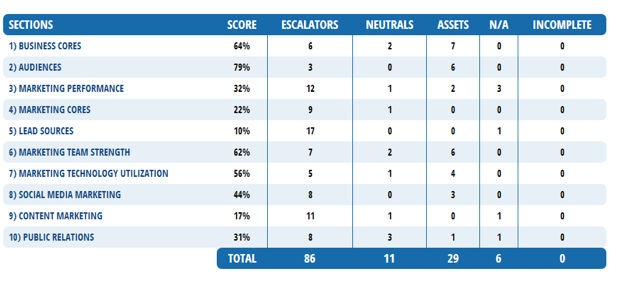 By conducting a marketing assessment, your SEO company will have a clear idea of what needs to be done to obtain success. It will show where quick gains can be made and help create a roadmap for achieving your goals.
Marketing services are split into two categories; builders and drivers.
Drivers are what we can put into place for you to see an immediate, positive effect. For example, if you have a large database of customers, creating an email marketing campaign can see relatively quick results – or we could create a referral programme.
Builders are more long-term strategies. The kinds of examples that fall into this area include:
Increasing your social networking strategy
Building your customer database
Implementing processes to track leads better
There is zero point in constantly link building to raise your rankings, as this may not be the solution and you could even be penalised by Google!
More traffic does not equal more sales. If your website has roadblocks that inhibit people from converting on your website, then no amount of traffic will solve this issue -which is why you need to demand more from your SEO company in 2017.
Conclusion
I hope you've enjoying reading, and by how you should have a better idea of how to choose a SEO company. Don't settle for anything less!
Got any questions about hiring an SEO company? Feel free to leave them in the comments', and I promise to answer!